Testimonials: What our customers say about us
Want to know what we're like? Listed below are a number of testimonials and thank-you notes sent to us by various clients over the years. We are very proud of these, as receiving these wonderful pieces of feedback lets us know that we're doing a good job and keeps us totally committed to providing an outstanding service.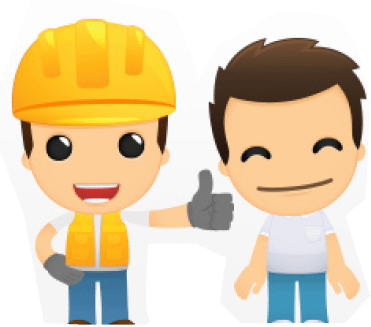 The team were fantastic from start to finish, and took the stress out of our job by liaising with the insurance company on our behalf. The work was of a very high quality, and I couldn't be happier with how our flat looks now. Thanks guys!
I would also like to take this opportunity to say a huge thank you to yourselves and all of your team and contractors for the fantastic work and service you have provided us with over the last 3 months, you have been an amazing support and I honestly don't know if we would have been able to get through all this without you.
I'd been meaning to write to you both for ages to thank you both for your work and patience in completing the job on our kitchen. It looks fantastic and your guys did a great job and I know things were not always that straight forward. So thank you!! We are so happy to be back in and enjoying our damp free (fingers crossed!) and beautiful new kitchen.
Tangible Solutions took away all the worry and concerns regarding my insurance claim. I had a water leakage through my bathroom floor which made a hole in the dining room ceiling. Tangible came to my home to inspect the work and from that time I trusted them to help me resolve the problems. They supplied me with a team of professional, efficient builders who were totally trustworthy. The end result is "amazing". I have a bathroom of which I am proud and a new dining room ceiling …. I can't wait to show it off to my friends, neighbours and family as it now has the W0W factor. Not only that, the workmen were a pleasure to have in my home, they were polite, friendly and very tidy. I recommend them to anyone needing a solution to an insurance claim.
I really really appreciate all the work you and Kelly have put into helping me with the flat, especially your patience in dealing with my Management company! Anyway it's looking great, and I'll pass my appreciation onto Dave and his team too.
I wanted to say a big thank you to you. You really rescued us from having to deal with our beyond unreasonable and unhelpful insurance brokers.
I would like to thank and recommend Tangible Building Solutions on their stirling work on our house in April. Our mains water pipe which runs under the Kitchen floor started leaking. It turned out it had more than 7 pin holes in the pipe under the kitchen cabinet. Nearly impossible to locate as there was no evidence of this except the noise of gushing water and the water meter whirling around. After an exploratory investigation, I called Mark "Mark it is worse than we thought there is a small river running under the kitchen floor". "I told you", he replied, "I will be there in 10" and he was. This was a major problem, but Tangible Building Solutions were true to their word and made the whole process very smooth with the insurance company. It was not just the inside knowledge of the insurance business but the technical building knowledge as well. At one point we had 5 people (including the loss adjustor and our dog) starring at a whole in our kitchen with the water running under the kitchen floor. Mark's team did a fantastic job and at one point poor Andy was running around finding an alternative floor cover. When I spoke to the loss adjustor afterwards to say I was happy and to sign the work off, he said that the whole job could have been more expensive. I would highly recommend Mark and his professional team who carefully deconstructed our whole kitchen and floor, fixed the pipe, dried it out and put our kitchen back together and now it looks great and is silent.
At last the work is done and we are back to normal. I am writing to thank you all for your professionalism and hard work. It has been a bit of a struggle putting up with the disorder, but we were impressed with your staff. I would also like to say how pleased we were with the decorating. A very smart job and tidy workmanship by your team.
Thank you very much indeed for sorting out my kitchen insurance claim. I am absolutely delighted with the work and the kitchen looks wonderful. The team really are very good indeed and I am so pleased with what they have done. I was so upset over the kitchen as it was new and I was sure that there could be no better job on it than the one I already had. Of course I was wrong and the kitchen looks beautiful. I will go as far as to say that the floor has been put in even better than the one I originally had. Quality workmanship at it's best!!! Thank you very much. I do hope I won't ever be calling up on my insurance again, but if I ever need to, I will make sure I call you first. Of course, I will also recommend you to friends, family and collegues as it is such a hit and miss affair in finding a good builder
I was in the process of buying our first family home when we received the call that a pipe in the loft had burst and the whole property was flooded. This at the time was a shock and a huge inconvenience. We decided to use Tangible Building Company located locally to us in Windsor to carry out the works. The communication they gave us was faultless, always keeping us up to speed of what was happening. The team of builders were very skilled and a pleasure to work with. They were very thoughtful of our situation and always working as hard as they could to get us moved in as quickly as possible. Tangible's service through the project was first class and I would happily use them again
When we suffered a flood at home, the team from Tangible dealt faultlessly with our claim from start to finish, making a stressful time far more manageable for us. We were particularly impressed with the way Tangible liaised with the insurance assessor on our behalf. The work itself was completed to a very high standard - actually far better than the pre-flood condition of the property! I've since heard various 'horror stories' from others who have had to make similar claims on their home insurance and now realise how fortunate we were to have been put in touch with Mark and his colleagues at an early stage, helping us minimise the stress and upheaval caused by the flood. This meant we could get things back to normal as quickly and painlessly as possible.
I would like to give some feedback for the recent work done by your team. It was a great team work by your team. I have to say it was a perfect start and perfect finish. We contacted Jeff Parker initially and he made us to get in touch with Christian who is going to take it forward from there. All of the team members are professional. Polite in answering and giving us time to think about what needs to be done. As I mention Christian that lots of company needs chasing up the work, staying back and looking for the work that has been done in the proper way or not. But in this case I have to tell you we are so much relaxed. We will definitely keep your company in mind for the next time. Happy Days.
Thank you to everyone on here who recommended Tangible Building Solutions to help me with my insurance claim. After being told by my insurers Direct Line that I wasn't covered for a leak that caused damage to my bathroom and a downstairs ceiling, I was left facing the prospect of having enormous repair costs including the replacement of my bathroom. When Tangible stepped in, they immediately pointed out areas of our policy that meant we were covered and they handled everything from dealing with the insurance company to doing a fantastic job in carrying out the repairs. The result was the insurance company paid for the work and covered us for the damage despite their initial statement to reject the claim. I can't recommend the team at Tangible highly enough, everyone was a pleasure to work with. Thank you!
I recently encountered a water leak beneath the concrete floor under the sink unit in my kitchen, and suffered water damage in both the kitchen and adjoining hall. The concrete floors, walls and carpets were irrecoverably damaged. It was obviously a stressful and prolonged process to get everything done, but throughout both my insurance company and, in particular, Tangible Building Solutions have been very helpful and accommodating in reaching a totally satisfactory resolution to the problem. All work has been carried out to my satisfaction and at all times any disruption and necessary mess have been kept to the absolute minimum. My home has been treated with respect and tidied and cleared up at the end of every session of work. I would have no hesitation in recommending Tangible Building Solutions to anyone who finds themselves in the same situation as myself.
After meeting Adam at BNI in October 2014, we sat down for a one to one to discuss how our businesses could work together. Adam explained that should any of my tenants experience a fire, flood or leak, he could take the stress out of the situation for me by dealing with the reinstatement works and the insurers, every property managers dream! On New Years Eve I received a call from one tenant in London who had been forced to leave his home due to a burst pipe in the communal area as all of the power needed switching off to dry out. The following BNI meeting Adam offered his help, even though it was outside of his area, he went out of his way to check the property and confirm its condition, including supplying photographs of the damage. Something that I simply didn't have the time to do. We were very lucky that the damage caused was very minimal and only some drying out and repainting was required, but without Adam and his team identifying the issues to us, we could have ended up costing our client a lot of money sending someone to complete work that wasn't necessary. Their professionalism and honest approach helped me to determine the best course of action and save our client a very large repair bill right after the festive period! I would willingly recommend Adam and his team to any letting agent or landlord and although I hope to never have to deal with another leak, I hope to work with them again!
Really can't recommend the Tangible team highly enough. Extremely knowledgeable and trustworthy. If we had had to deal with the insurance company without their help in their damage report in defence of our claim we would have abandoned the whole thing and been left out of pocket. If you find yourself in a situation where you have to make an insurance claim and you find your insurance company unwilling to engage/difficult to deal with, this is the company you should use. Finally, I would like to take this opportunity to thank all the team at Tangible for dealing on my behalf with the insurance claim. The house has turned out lovely and my wife and I are very grateful for all the effort you have put in to make it all come together. Hopefully now we can put behind us the last 18 months and begin to enjoy our new home. I would not hesitate to recommend Tangible to anyone in a similar situation. Besides having a professional team of qualified tradesmen, dealing with insurance companies really does need someone who understands their way of thinking and how they work. Thank you once again
May I also mention that I was very impressed with the standard of work and how professional the workmen were. I found your people very helpful and patient and they were great and pleasant people to work with to get the kitchen finished to the desired specifications. Please pass on my thanks to them. I would be happy to recommend your company to anyone and wouldn't hesitate to call you again if I have any further unfortunate events happening. Thanks again.
I would like express my sincere thanks for your wonderful service. After suffering a burst pipe in Jan 09, I was allocated an insurance assessor and builder from the Insurance Company. Later I was horrified with the work and the wet unfinished state that my house was left in. However, your company, Tangible Building Solutions, came and saved me by taking over the claim and restoring my home to a high standard. It is now dry and beautiful once again. I am enclosing some before and after photos which I hope will be useful to you. Thank you once again.
Very impressed with the work - not only that but the knowledge and support shown by all staff who engaged with me was excellent and appreciated. It wasn't always a straightforward job but throughout I received sensible and helpful advice. I feel fortunate that Tangible contacted me via mybuilder.com, glad it worked out well. Cheers.
All done, very happy and will recommend to colleagues and friends. Also would like to say how impressed I was with Vince's professionalism, work and help throughout the week and would recommend you use him as much as possible.
Can I take this opportunity to say that your company is one of the best that I have dealt with in a long time. The team that came and did the work were brilliant and left the place tidy and did a great job.
Tangible Building Solutions have completed the works on my property having 2 bathrooms ripped out due to a water leak. The main bathroom was dried with a humidifier for 2 months. Great care was taken here in preparatory work and started what was a long job in hand. Completed efficiently and quicker than anticipated, the whole operation was daunting but handled with integrity and great care from Mark, Colin, Andy, and of course the tradesmen who came to do the work. Rob, Martin, Dave, and Nathan worked with the utmost Integrity and kept a low profile so you wouldn't feel your home was invaded. The best Company I have every had to work in my home and the best bunch of guys I have ever had the privilege to work in my property. Especially Rob who is a credit to the Company. I would definitely use Tangible Building Solutions again. Thank You Tangible! I appreciate your services and high standard of workmanship.
I just wanted to drop you a quick note to say thank you for all your help! The work you and your guys have done to our playroom is wonderful! Your guidance through this procedure has been invaluable and without you I don't know where we would be. We really appreciate all you did. It is so nice to have our house back to normal after the leak and finally the damp smell has gone! If there is anything else you need me to do please do let me know, with the greatest of respect I hope we don't need you again however if the worst comes to the worst I will be in touch for sure! Thanks again Colin!
I had a leaking shower at my apartment, apparently it had been leaking for over 3 years, when the ceiling fell through into my neighbours home in October 2013. Following this I had no idea the hell that we'd be taken through. The loss adjusters practically said no to our claim over the phone. We battled them, then they set a date to assess. After 3 no shows we got assessed. Three weeks later we got into a "he said she said" situation, until I said no to all verbal conversations as I could see they were manipulating my words. Enough was enough. I searched for a company that could act as intermediary, as I was at my wits end. I interviewed 2 other companies, they both turned up late, and they both did the "tut tut this is going to be expensive" talk. I immediately asked them to leave. (Truth) 3rd and final attempt Tangible Building Solutions, Jeff and Phil, came to the rescue (they really did). They arrived on time, they were more concerned about me and my neighbour than costs. They diligently went about investigating the root cause and what the remedy would be. They both explained the process going forward and made me feel I wasn't chasing a lost cause. I immediately instructed Tangible Building Solutions to act on my behalf. I was then given two additional names that I could discuss my case with at any time. Kelly and Adam. Tangible owe these guys a lot!!!!! They always answered my calls, replied to my emails - updated me on what was happening. The process took 9 months – but they did it!! Dave (builder) and his team were great, they did an excellent job in renovating my apartment. I'd recommend Tangible Building Solutions every day of the week! All the staff that were involved in my case did an excellent job, they do actually care. I'd like to especially thank Kelly and Adam. Kelly got the brunt of my frustrations, a thousand calls, she was always nice to me and resolved my concerns. Adam, I always got his name wrong when calling (I work with an Arron), he'd always politely reply "Hi Clive it's Adam". Very professional, they both provided me with excellent customer service. Thank you both very much That's not taking anything away from everyone else involved, but Kelly and Adam stood out in a very accomplished, and well organised team. I can't thank Tangible Building Solutions enough!!
Many thanks for the great service that your company provided me with. As you know, when my swimming pool decided to "let go", the loss adjusters ran me round in circles asking for multiple quotes and damage reports. Not only did I not have time to do this, frankly I didn't see that it was my responsibility to get this information either. It was great that you took the whole thing off my hands and just got it sorted for me. The pool contractors that you appointed were really top-rate and friendly too. I would recommend to anyone with a home insurance claim to use your company, and with it costing me nothing to use you, I can't see why anyone would want to choose any other route. Thanks again, great job.
Dealing with insurance companies and their "offspring" is not an easy task so when I discovered leaks from both our showers at home the fun began. As expected they insisted that I obtain 2 quotes and then appointed a loss adjuster. At this point I knew I would lose the will to live and so called in Tangible. Tangible attended the meeting with the loss-adjuster and made sure that whole ceiling was replaced rather than being bodged with a patch and that entire wall was repainted to avoid differences in colour showing up. Overall, the results that you achieved were in fact better than the original room ever had been, mainly thanks to your insistence that the loss-adjuster do his job rather than con me out of what I pay insurance premiums for, and secondly for the professional, helpful and un-intrusive way the workmen dealt with the job. I would have no hesitation in recommending Tangible to anyone who has experienced any sort of insurance claim and is looking for someone to help in all areas of getting the claim processed and completed. The overall experience got the claim dealt with properly, even if the insurance firm and loss-adjusters could not do their bit properly. Thanks again.
Complete this form and we will call you straight back
Call Now to discuss our Free Services
We act on your behalf in all dealings with insurers
By using this form you agree with our Privacy policy
By using this form you agree with our Privacy policy